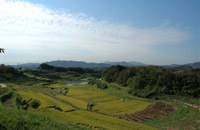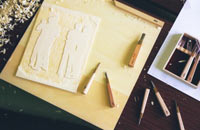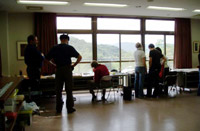 Nagasawa Art Park (NAP) Japanese woodblock printmaking program was closed in 2011 and succeeded to MI-LAB (Mokuhanga Innovation Laboratory) in Lake Kawaguchi.
Please click here to visit MI-LAB page for further information.
Over the course of 12 years, more than 78 artists from 30 countries have participated in the program and donated over 250 different print artworks to the Awaji City collection. NAP of Awaji City (currently succeeded to MI-LAB) is now well known as a self-development program for international art leaders, and also as one of the foremost collectors of contemporary waterbased woodblock prints.
The NAP residency hosted a number of international artists, print teachers and printmakers and introduced the Japanese waterbased printmaking technique. The artists not only enjoyed a traditional Japanese lifestyle with the local people in Nagasawa village, but also had the opportunity to meet and work with other international artists during their residencies.
In Memoriam: Keiko Kadota
It is with great sadness that we announce the passing of Keiko Kadota on January 10, 2017. She was a great friend and important mentor to many artists within and outside Japan, promoting international understanding through her many projects. As the Director of the Nagasawa Art Park (NAP) residency mokuhanga training program (1997-2011) and its successor the Mokuhanga Innovation Laboratory (MI-LAB) her work has been of special importance in advancing an understanding of mokuhanga, Japanese woodcut, as a creative practice internationally. The network of strong friendships she fostered has resulted in many mokuhanga exhibitions, classes, conferences, presentations and other events in all parts of the world. She was also a supporter of related craft traditions and had a deep understanding and appreciation for washi, Japanese handmade paper. In addition to her work as Director of two Japanese residencies, she initiated the tri-annual International Mokuhanga Conferences. The third of these conferences, IMC2017, will be held in Hawaii September 28 to October 1, 2017. The MI-LAB program will continue to accept applications for residencies, and the Tokyo CfSHE office will continue to offer classes and exhibitions related to mokuhanga. The passion and dedication of Keiko Kadota will be deeply missed, but her programs will continue her legacy of promoting international understanding and cooperation through mokuhanga.
In celebration of her accomplishments, MI-LAB is preparing an exhibition for June 2017 in Cyprus, which has been designated by the EU as European Capital of Culture for the year. It concerns the history of MI-LAB and NAP between 1997 and 2017 with an overview of the development of mokuhanga internationally. As a part of its research, MI-LAB will conduct a survey of NAP and MI-LAB alumni regarding their mokuhanga print publications, their other creative work including work with washi paper, their careers in educational fields, and the launch of new studios and residencies. This research will be presented at the Third International Mokuhanga Conference, Hawaii, with a small farewell celebration for Keiko, whose work so profoundly influenced the lives of so many artists, craftspeople and educators.